For regular readers of Marvel comics or those reading the Thunderbolts, then this is old news.
But for those who might not know, Ant-Man (Eric O' Grady) has been making some recent appearances!
More specifically, he is featured as a member of the Thunderbolts Team in issue 128#.
Here's the cover,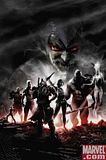 And here is a page in which we see Ant-Man doing what he does best!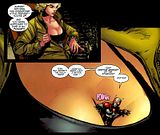 Ant-Man has also made an appearance in Thunderbolts issue 133#
And, he seems to have a fancy new costume to go along with the new events of Dark Reign. I wonder if he will keep it?